HVAC & Plumbing Premier Program Agreement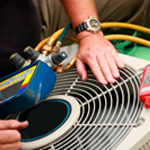 We agree to provide you with a complete precision tune-up and professional cleaning either annually or semi-annually as described below for your heating and/or air condition equipment during the term indicated. Benefits to include :
Clean and adjust burner assembly
Clean ignition assembly
Clean heat exchanger or elements
Monitor flue draft
Monitor refrigerant pressure
Test safety controls
Clean and adjust blower components
Tighten electrical connections
Measure volts/amps
Lubricate all moving parts as needed
Adjust or reprogram thermostat
Clean evaporator coil if accessible
Clean condensate coil
Clean condensate drain
Measure temperature difference
Inspect filtration & additional systems
With regular maintenance you will prevent small problems from becoming big problems and ensure optimal performance of your comfort system. We also offer annual service agreements, which can reduce the cost of a Performance Tune-up.
Plumbing difficulties are intimidating, and until we experience one for the first time, we never realize how much of our everyday lives depends on the simple movement of water between points A and B. The Chastain's technician is there to fix those problems, making sure your day-to-day routines, whether at work or home, continue unabated. Need an installation or repair? Call us. We'll have one of our team members out to appraise the situation and get you up and running, leaving you with the confidence of knowing the job was done properly.
Main Office: 800D Burnt Hickory Road, Cartersville, GA 30120
E-Mail: chastainplumbinghvac@gmail.com